Atlantis Today a new Atlantis in Paradise Island, Bahamas is born of the legend. Today the Massive walls and Towers, are made of materials from all over the world.
Artist from countries far away are commissioned to create the Channels, Statues and Doors.
Beyond these pages, we will take you to a place few have gone but all will go. We will take you to the legend that is now, Atlantis, Paradise Island, Nassau the Bahamas. The new Atlantis is truly set in a tropical paradise, no longer difficult to reach, no longer out of touch with the rest of civilization, it is now yours to behold. Behold Atlantis, no longer old, todays Legend will complete itself with your story told. Come, be a part of the new, Atlantis The
Legend
Atlantis Today in Paradise Island, Bahamas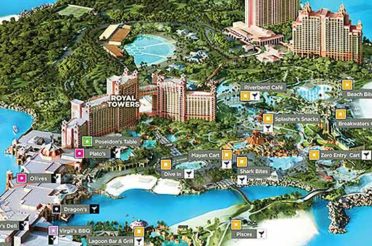 Today, Atlantis is a lush tropical island with a two-mile stretch of white sandy beach. Atlantis today, is a place where dreams come true. All who set foot on the island will fall under its mystical spell . From 1994 to 1998, the mythical city of Atlantis was created by owner Sol Kerzner. Hundreds of millions of dollars was spent to bring to life the myth and legend of the lost city of Atlantis. The scale of the project was astronomical. It would become the world's largest open-air marine environment of 11 million gallons. It would become a home to 50,000 sea creatures representing 200 species. With new lagoons and countless waterfalls, there was also a spectacular Mayan Temple Waterslide complex, 6 swimming areas and a $15 million Marina that would attract the sophisticated international mega-yacht set.
The Grand Opening
In 1998, the 1,200-room Royal Towers opened. It was an architectural triumph of arches and domes and spires. With soaring towers rising from the sea, they are based on the myths that inspired them. Millions of dollars were spent on museum-quality art from renowned artists. The Caribbean's largest casino is in the Royal Towers. Upon opening, the casino also offered a gaming industry first: a wall of windows which brought light and the outdoors in.
Following a decade of success, Atlantis, Paradise Island continued to grow. The next phase would add to Atlantis' existing 2,317 rooms. Also the world's largest open-air marine habitat, the luxurious 600-room resort within the resort, The Cove Atlantis, a 497-key condo-hotel, The Reef Atlantis, the 14-acre dolphin habitat and education center, Dolphin Cay, a 63-acre addition to the waterscape, now called Aquaventure, with a total of 140 acres. The Aura nightclub was also added, approximately 100,000 additional square feet of new conference facilities and a total of over 500,000 indoor and outdoor space creating the largest conference space in the Caribbean. Finally the 30,000 square-foot Mandara Spa.
Book Your Atlantis Vacation Now
Gallery